About Us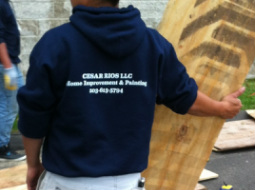 CERIOS LLC Painting & Home Improvement , formerly CESAR RIOS LLC, was founded by Cesar Rios in 2005. In his seventeen years of providing quality painting services to the region, his knowledge, skill level, and customer service abilities continue to evolve and grow, to where now, he is a well-respected painting contractor who always leaves a project completed to the satisfaction of his client.

Cesar and his team of professional painters pride themselves on providing high quality painting service, on time and on budget.

CERIOS LLC is a straightforward, hassle-free painting service, cutting no corners in their craftsmanship. Their attention to detail and dependability has made word of mouth their best advertising.

When quality, value, and peace of mind is very important to your decision making, consider CERIOS LLC your first choice professional home improvement and painting service company.



---